Click now to book – account and registered customers can log in on the top right hand corner of the booking page, if you are a registered customer you can also now pay by credit or debit card
Book Your Taxi
Fill in all the relevant details so we know where we can find you, and when to pick you up. There is even a little section for any info that you might have for the driver to help with your booking. Select the number of people and click Get Quote.
Booking Acceptance
After you click get quote, we will give you an approximate quote for your journey along with a summary of your booking details, all you have to do now is put in your name and contact number, and click place booking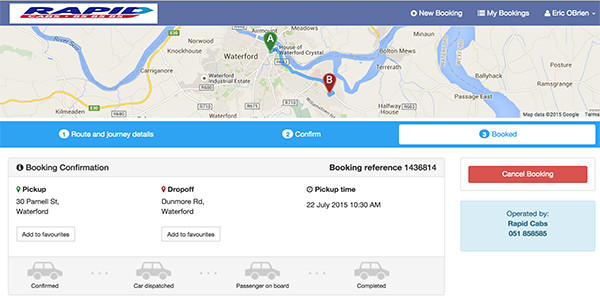 Taxi Status
Now that you have your taxi you will get a status page letting you know that your taxi has been confirmed, when it has been dispatched and when the journey is completed. You can track your car on this page too.
Pay by Credit Card
Want to pay by credit card? Want to have a copy of all your journeys in one place, making it easier to handle your expenses? Or would you like to have your Rapid Cabs taxi account linked to your ebooking or app? If so simply click register on the top right hand corner of the page. Registered users bookings will also be linked to their phone app.
Register now for E-Booking and get additional features such as:
* Option to Pay by Credit or Debit Card
* View & Rate your previous bookings
* Set up templates of regular taxi jobs
* Add your favourite addresses to book quicker
* Rapid Cabs account customers can pay on account
E-Booking Registered Customers